If you looking to personalise your bar-top cork capsules with a logo or brand name, there are essentially 3 options available: printing with ink, burning and embossing. You can also print or burn your logo onto the shaft the of the actual cork itself, but we will not be looking at this option here. Here we will examine how the capsule for your bar-top can be personalised, mainly considering wood, plastic and cork capsules. We will give some rough ideas of prices below, but of course these can be liable to variations depending on the exact specification.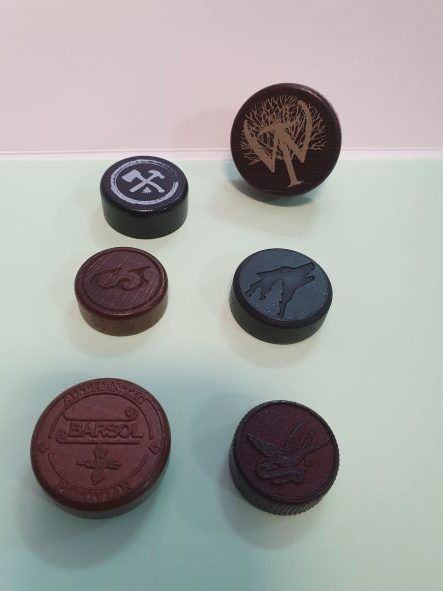 Printing – this is the most simple option and allows you to get high definition graphics with relatively low set-up costs and low minimums. It will require a print stamp which will generally cost around €170 depending on the size and complexity of the logo, then expect to pay an additional €20 per thousand units. Printing works well on plastic, wood and cork capsules and gives a very reliable and consistent finish.
Burning – only suitable for wood and cork capsules, this requires a heat stamp or brand, that it heated up and touched to the surface of the capsule to burn in the logo to the surface. You do not get such a precise finish as with printing as the burn can 'bleed' a little from profile of the stamp, so very tiny details are best avoided. It does give you a very attractive and organic looking finish however, which can chime very well with the fact that you are using natural products (cork and/or wood) for your bottle. The stamp itself is slightly more expensive than a print stamp (around €185 typically) and production will add around €25 per thousand units.
Embossing – for wooden capsules, this is achieved using a cliche or stamp that is pressed onto the capsule with substantial force to dent the wood by around 1mm. This gives the capsule a more dramatic appeal than printing or burning, but also has the problem that fine details are difficult to replicate. The stamp will cost around €200 and will add around €25 per thousand units in cost.
Plastic capsules cannot be embossed, although it is possible to achieve the same effect by making a specific mould for the capsules. However these moulds cost 10s of thousands of euros to produce, so are only really possible for higher volume production.
Embossing does not work at all for cork capsules, as the cork is too elastic and will just bounce back to shape.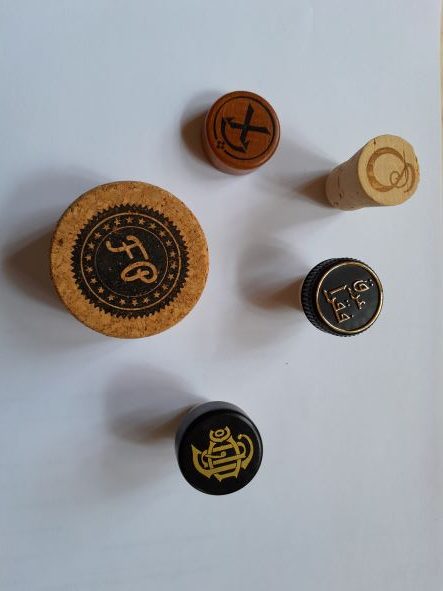 Generally personalising your bar-top corks does not affect the minimum requirements (typically 5000 units although sometimes we can do fewer). We are a specialist supplier of personalised bar-top corks and we can give you further guidance should you need it about what might be the best option for your bar-top corks supply, so please get in touch if you need and advice.