Here at CorkLink we do not generally work with stock sizes of bar-top corks, for the simple reason that there are endless numbers of bottles that we have to work with and we size corks to a tolerance of 0.2mm, so there are just too many variations for us to hold meaningful stock. So in this blog post we will explain some of the sizing issues that need to be considered when sizing a bar-top cork for a particular bottle.
The first thing to note is that sizing a bar-top cork is completely different to sizing a wine cork, because firstly a wine cork is compressed so allows for much greater tolerances and second because wine corks are standard sized so bottles are made to fit standard cork sizes (like 45x24mm for example). This means that the first step for us to accurately size a bar-top cork is to receive at least 3 sample bottles, so that we can measure them up. We need a minimum of 3 sample bottles, because there can be a lot of variation in internal neck profiles so we need to know what range of sizes our corks will have to work with.
The single biggest issue we have to work with is uneven neck profiles – in an ideal world the internal neck profile of a bottle would be completely uniform down the entire neck, but this is rarely the case. So we take sample bottles and use a specialised tool to measure the internal neck profile, checking for variations in diameter and ovality. Below you can see a profile of an internal neck profile, showing the average diameters from 3 bottles at 2.5mm increments. This example shows a bottle neck that is relatively easy for us to design a cork for, as although it has a pinch point at around 2.5mm depth it is not too pronounced and there is reasonable uniformity until the neck begins to flair at the bottom.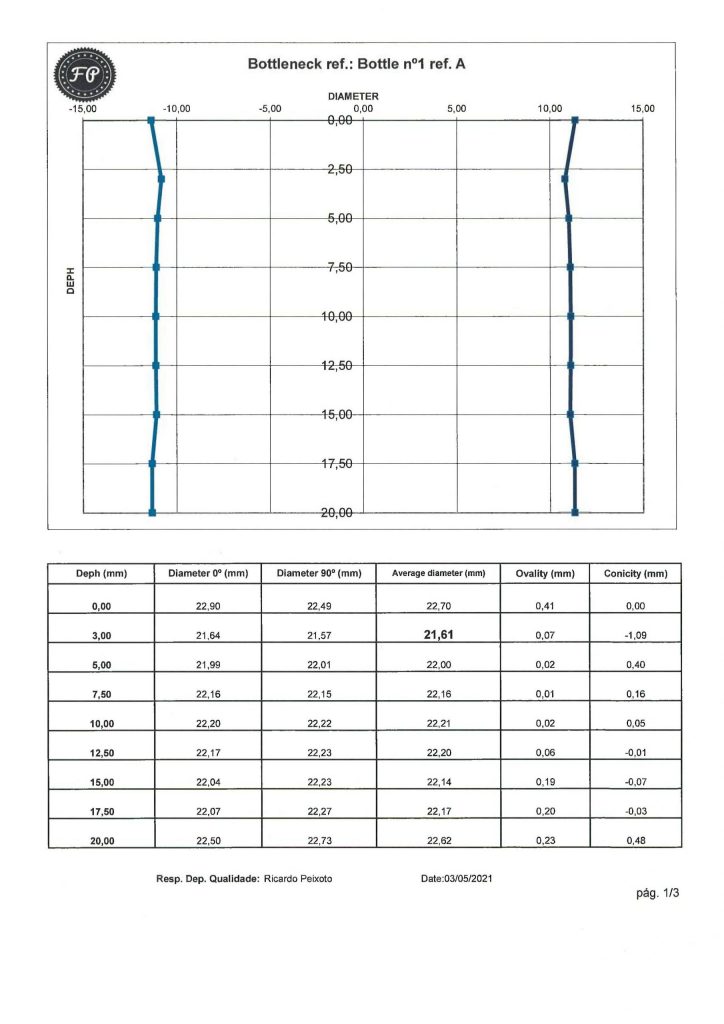 Unfortunately not all internal bottle neck profiles are as compliant a this one. The major issues of concern are:
– a lip at the mouth of the bottle, which will tend to rub on the cork as it is inserted and removed, which can cause deterioration to the smooth surface of the cork
– a pinch point at a certain point of the internal neck, which will make the cork difficult to size, because if the diameter of the cork is sized to the pinch point, then it will tend to be too small for the rest of the neck, or if it is sized to the rest of the neck it will be too tight for the pinch point. So the only answer is to size the cork for a compromise for both situations
– a funneling of the neck towards the bottom. If it funnels to become more narrow, then this will tend to push the corks our of the bottle, leading to rising corks and if the neck funnels wider, then the cork will not be in contact with the entire bottle neck, so not forming an effective seal
You may hear advice that a bar-top cork should be 1mm wider than the internal neck diameter for example, but as you can see this advice is rather meaningless untill you understand the profile of the neck. Furthermore, you need to account for the fact that micro-agglomerated corks are lest elastic than natural cork. Nor can you look at the technical drawings of your bottle for help, because these will invariably show a perfectly uniform neck (bear in mind that irregular internal neck profiles are really a failiing in glass quality production).
Once we have measured the bottle samples received from a client, based on the results we will estimate what is the correct cork diameter and length, and then we will test them out to see our different sized corks work in practice. Often making small changes to the corks of a fraction of a mm will make all the difference to the fit, so it is our job to get this fit exactly right (or at least give the best possible compromise fit given the issues that a particular neck profile may present).
With all bar-top corks, even when the neck is uniform and the cork is accurately sized, the advice should always be to avoid laying the full bottles down on their sides beause the combination of uncompressed corks, short cork lengths and irregular neck profiles mean that the fit will never be anywhere near as tight as that of a wine cork.
If you are having problems with the fit of your bar-top corks, then please contact us and we will use are long experience to make sure that we reach the perfect custom solution for your bottles.